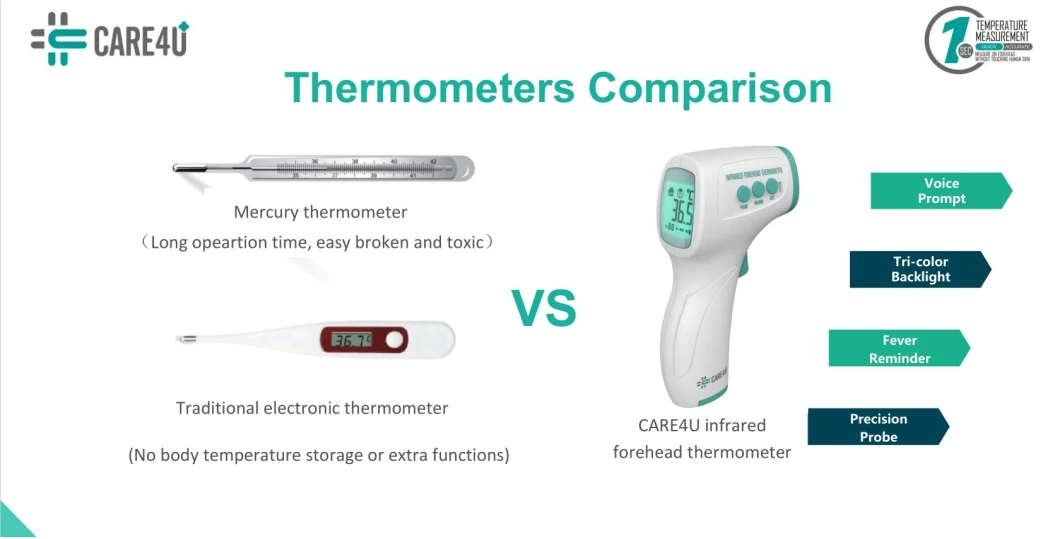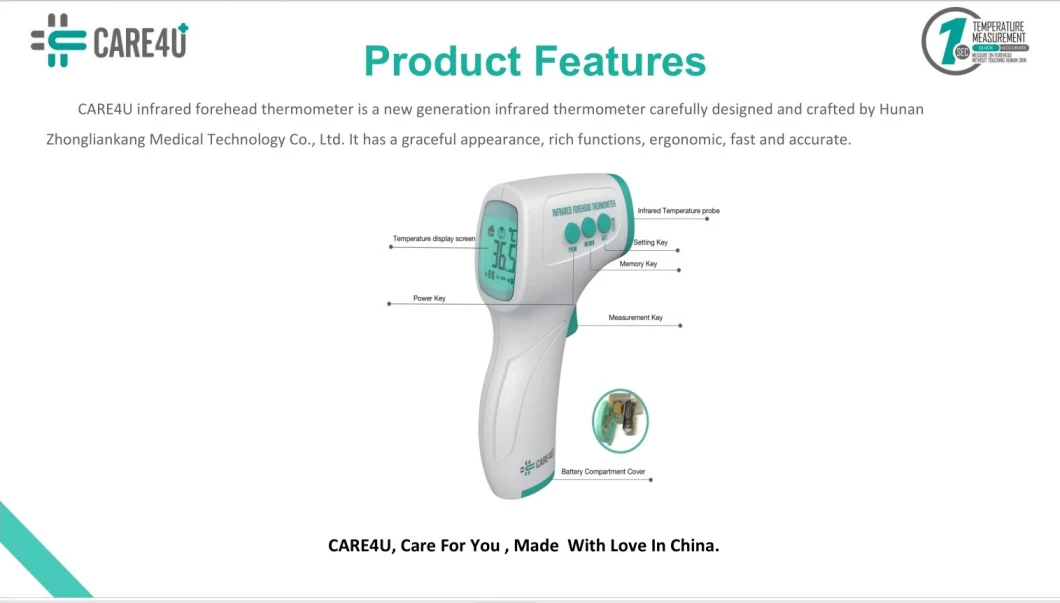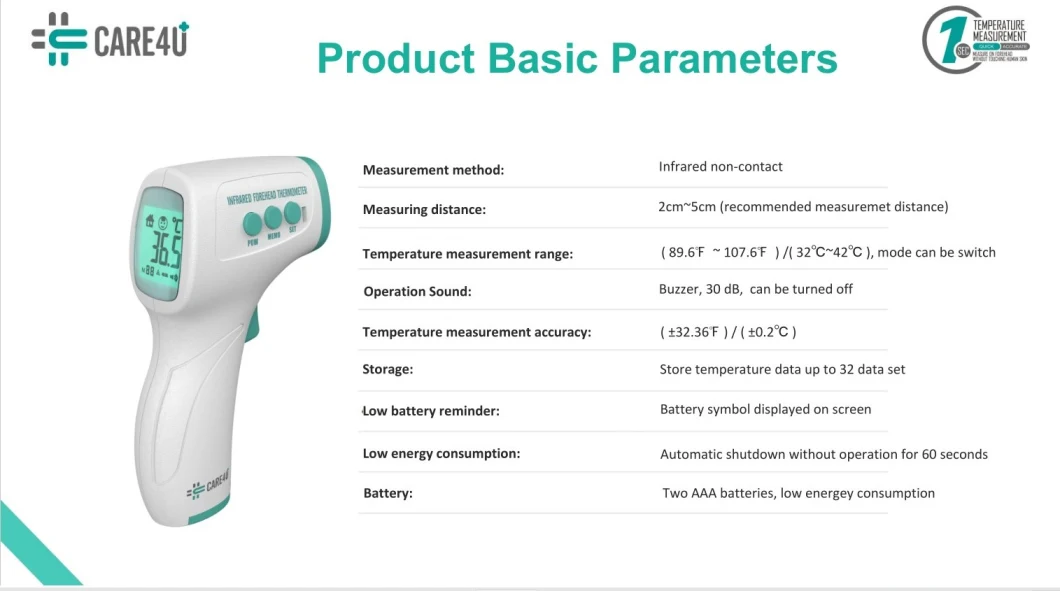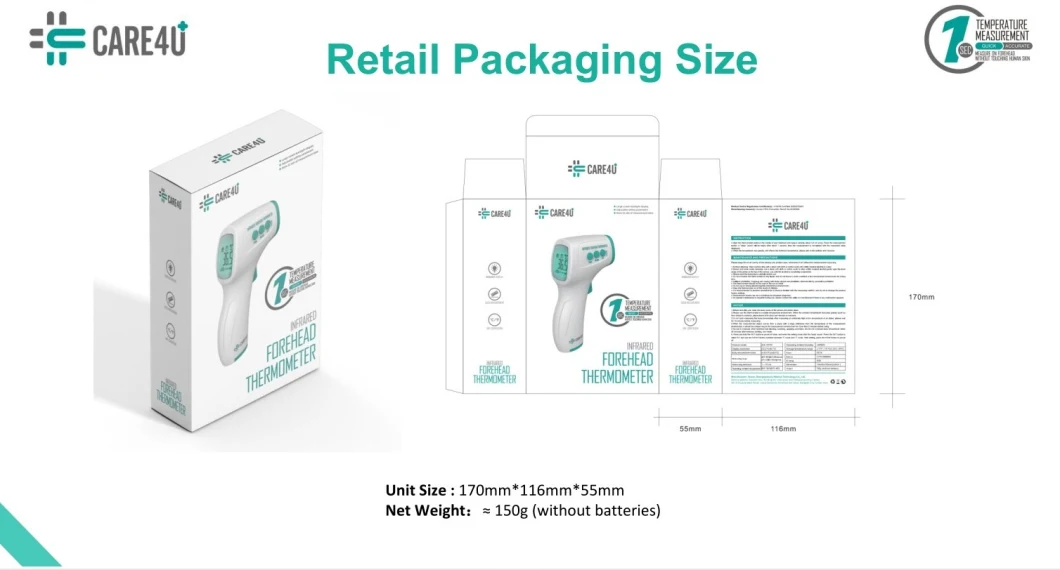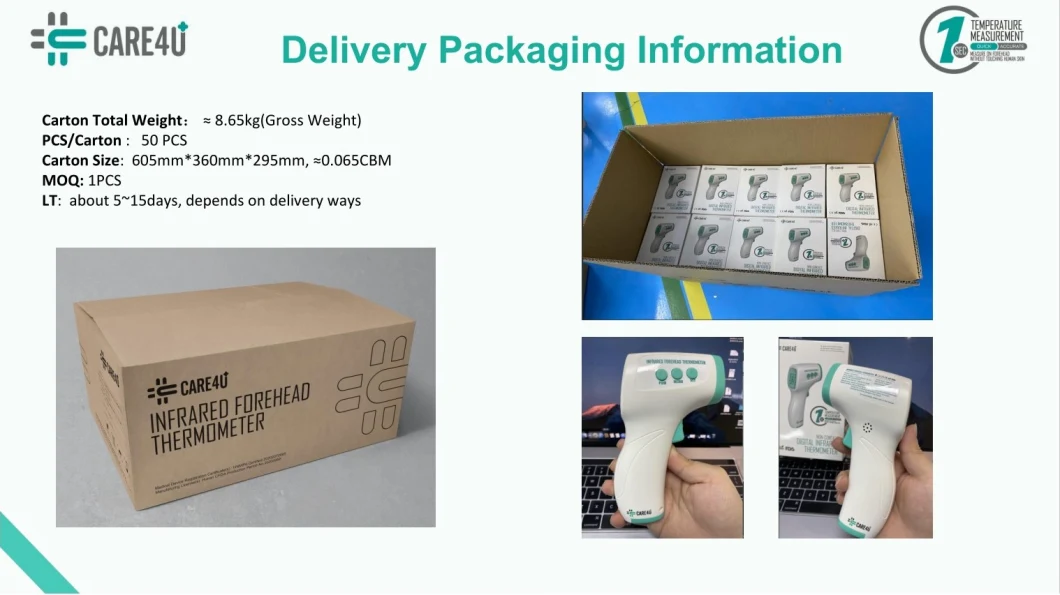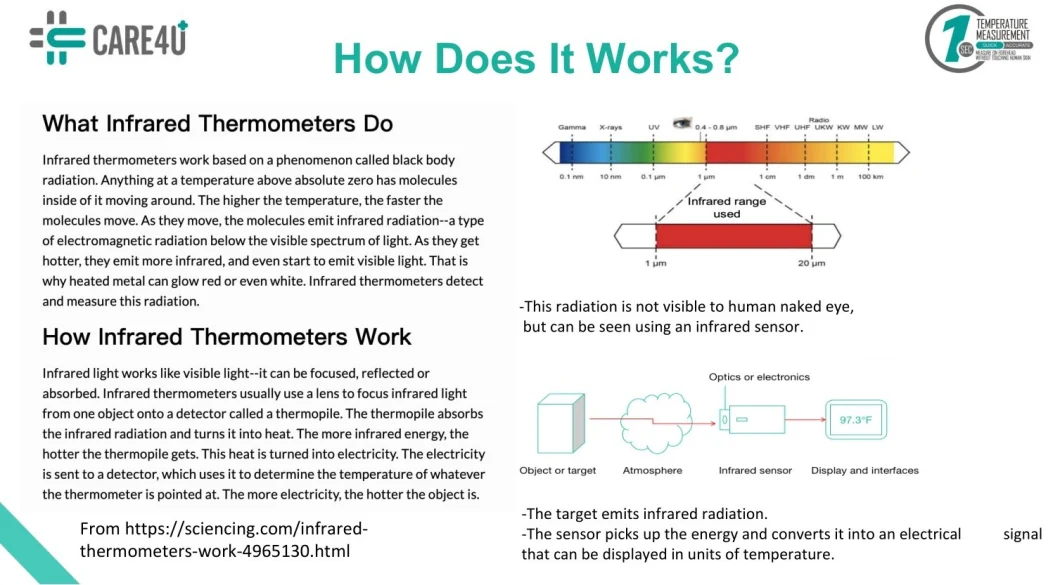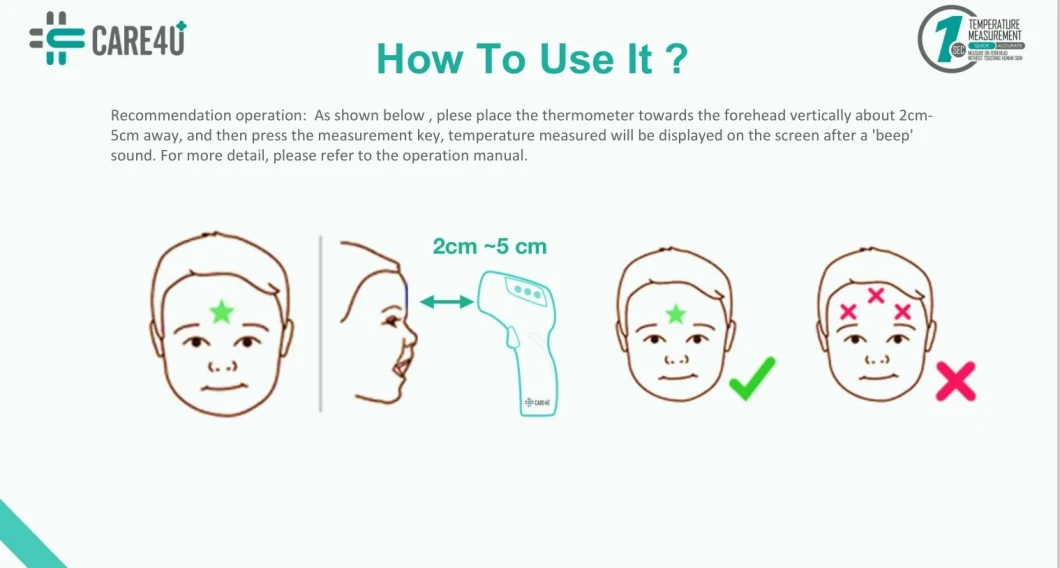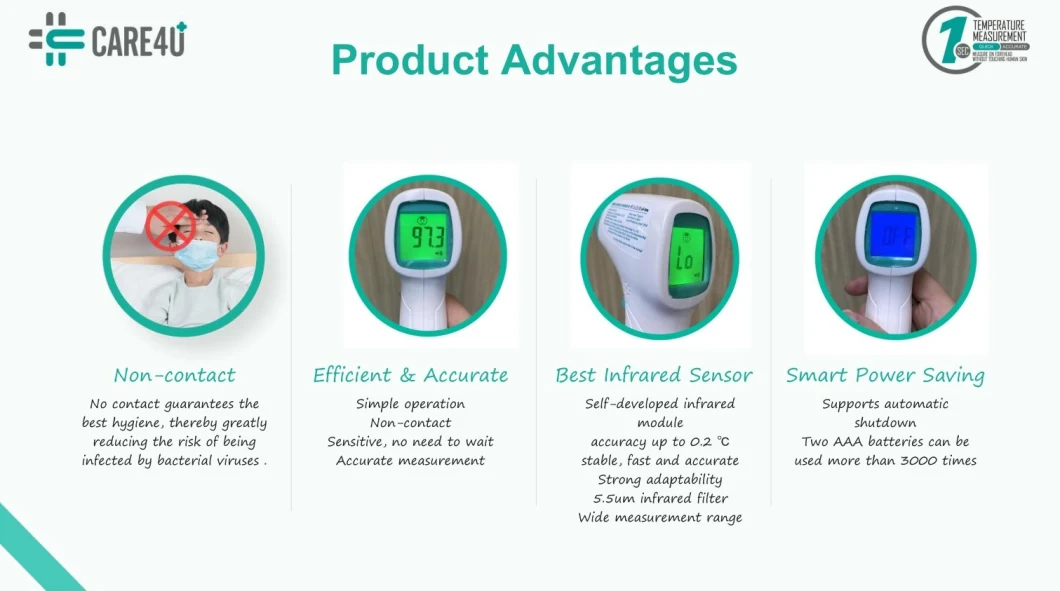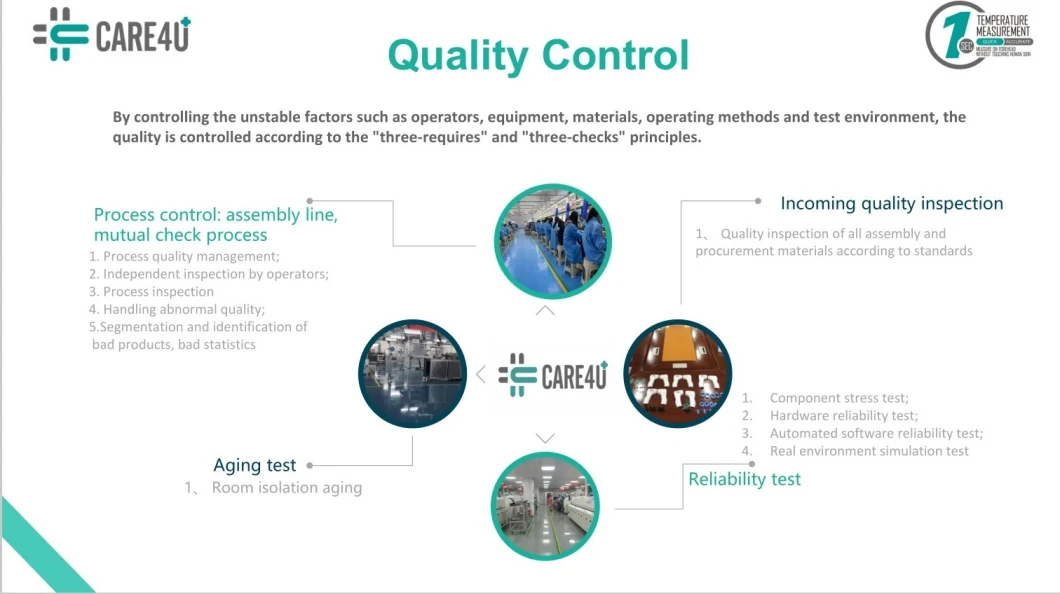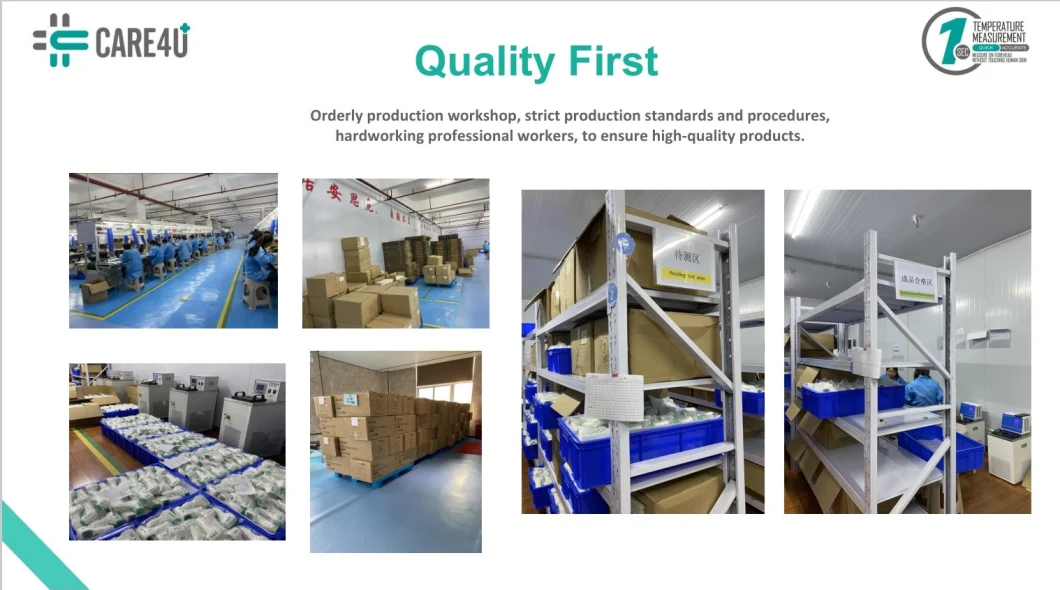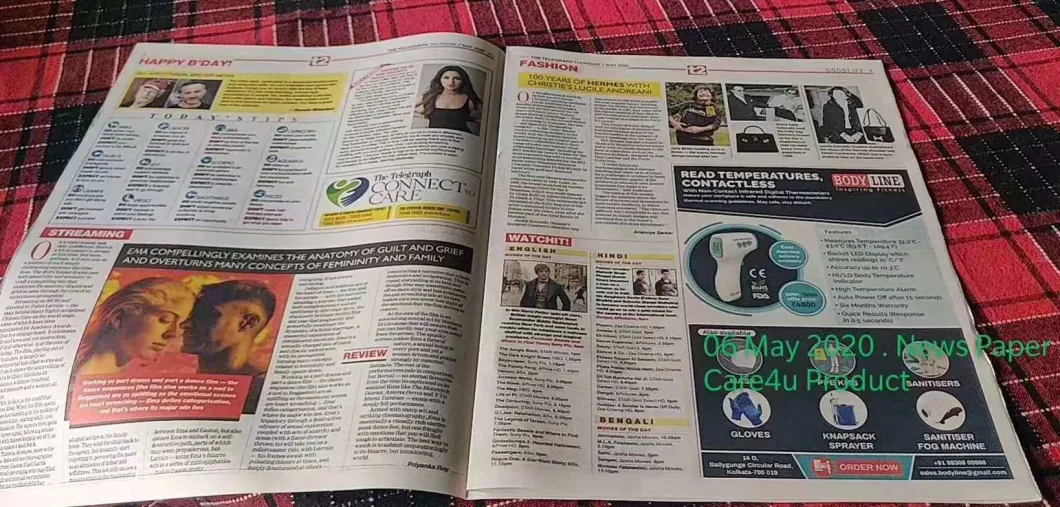 Brief introduction:
CARE4U non-contact infrared thermometer (NCIT) made with love from China, which is accurate and fast and with great outlook. CARE4U NCIT can be used to measure human body temperature, and also to reduce cross-contamination risk and minimize the risk of spreading disease. It's has the following features:
Non-contact approach may reduce the risk of spreading disease between people being evaluated

Easy to use

Easy to clean and disinfect

Measures temperature and displays a reading rapidly

Provides ability to retake a temperature quickly
Tips for using:
Hold the NCIT sensing area perpendicular to the forehead and instruct the person to remain stationary during measurement(s).

The ideal measure distance between the NCIT and forehead is about 3~5cm.

Do not touch the sensing area of the NCIT and keep the sensor clean and dry.
Advantages
1.Non-contact:No contact guarantees thebest hygiene, thereby greatly reducing the risk of being infected by bacterial viruses .
2.Efficient & Accurate:Simple operation Non-contact Sensitive, no need to wait Accurate measurement
3.Best Infrared Sensor:Self-developed infrared module,accuracy up to 0.2 ºC,stable, fast and accurateStrong adaptability.5.5um infrared filter.Wide measurement range
4.Smart Power Saving:Supports automatic shutdown .Two AAA batteries can be used more than 3000 times

Incoming quality inspection:Quality inspection of all assembly and
procurement materials according to standards

Reliability test
1. Component stress test;
2. Hardware reliability test;
3. Automated software reliability test;
4. Real environment simulation test

Quality First
Orderly production workshop, strict production standards and procedures,
hardworking professional workers, to ensure high-quality products.

Process control: assembly line
mutual check process
1. Process quality management;
2. Independent inspection by operators;
3. Process inspection
4. Handling abnormal quality;
5.Segmentation and identification of bad products, bad statistics
| | |
| --- | --- |
| Measurement method: | Infrared non-contact |
| Measuring distance: | 2cm~5cm (recommended measuremet distance) |
| Temperature measurement range: | (89.6°F ~ 107.6F ) /( 32°C~42°C ), mode can be switch |
| Operation Sound: | Buzzer, 30 dB, can be turned off |
| Temperature measurement accuracy: | ( ±32.36"F )/(±0.2°C ) |
| Storage: | Store temperature data up to 32 data set |
| Low battery reminder: | Battery symbol displayed on screen |
| Low energy consumption: | Automatic shutdown without operation for 60 seconds |
| Battery: | Two AAA batteries, low energey consumption |
We have:Medical Device Business License/Export Business License/Medical Product Export Certificate/Medical Device Registration Certificate(s) :HNMPA certified 20202070665/Manufaturing License(s):Hunan CFDA Production Permit No.20200059
CE certificate and FDA certificate , which guarantees reliable quality for export globally.
The company's production address is at the second floor of Building 10, Innovation and Entrepreneurship Center, No. 9 Chuanxi West Road, Jiuhua
Economic Development Zone, Xiangtan City, Hunan Province, China. The building area is about 4,000 square meters, the production workshop area is
about 1800 square meters, and the office area is about 980 square meters. The warehouse area is about 486 square meters and the inspection area is
about 160 square meters. The company's office area, production workshop and storage space are all independent. The company's workplace and
production and inspection equipment are determined to meet the characteristics and processing requirements of the thermometer.